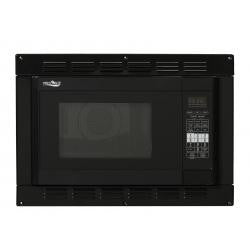 High Pointe
High Pointe 1.1 CU FT 1000-Watt Built-In RV Convection/Microwave Oven w/Turn Table and Black Trim Kit EC028BMR-B (replacement for EC028BSC-B)
---
Black High Pointe 1.1 CU FT 1000-Watt Convection & Microwave Oven w/ Turn Table & Grill Rack. Black Picture Frame Trim Kit included. 
Online manuals are available here.
Designed, Engineered, Tested, and Approved for use in Recreational Vehicles and Other Mobile Applications.

This High Pointe Convection and Microwave Oven is UL/CSA certified which means that it is specifically designed for the RV, with rugged electronics to withstand travel vibrations. 1.1 cu. ft. capacity with a recessed glass Turn Table and a Grill Rack.

Features include easy-to-use and -understand touchpad controls, push-release door mechanism, 4-digit LED display, Kitchen Clock with Timer, Multi-Stage Cooking, and Child Lock.

Microwave Oven has 9 Auto Menu options, 10 Microwave power levels, 1-touch cook, 1-touch reheat, and Weight and Time Defrost.

Oven features include Convection, Grill, and Roast. There are 10 temperatures available.

AC grounded outlet, UL listed; CSA certified. Mfr. 1 year warranty.
Brand: High Pointe 
Size: 1.1 Cubic Foot Interior
Watts: 1000 Watts

Features:
4 Cooking Modes: Microwave Convection, Grill & Roast

Speed Cook with Microwave & Convection Combined

9 Express Cook options (Popcorn, Potato, Pizza, Roast Chicken, Beverage, Soup, Dinner Plate, Fresh Vegetable, Frozen Vegetable)

Instant Start (30-seconds per touch)

10 Power Levels 

Multi-Stage Cooking

Weight and Time Defrost Options

Child Lock Setting

Black Picture Frame Trim Kit
Specifications:
Unit Dimensions:
Width: 20.5 inches
Height: 13.19 inches
Depth: 20.4 inches

Cut Out Dimensions:
Width: 22.44 inches
Height: 15.14 inches
Depth: 19.25 inches

Trim Kit Dimensions:
Width: 24 inches
Height: 17 inches
* UL/CSA Approved
---
Share this Product
---
More from this collection